During a bathroom installation, which is basically a small construction project being carried out within a lived in residential home. It goes without saying that this could be inconvenient & potentially stressful.
After the buzz of the creative design phase it's time to be more pragmatic and be ready to share your home and time with some tradesmen for a few weeks to allow the required process to take place, and bring your bathroom design to life.
If it feels like you have been sold the dream from the outset, then anything less than the perfect installation experience will seem like failure, but this is far from the truth. Remember, it's a construction project and it's the end result that needs to be focussed on.
Bathroom Design and Installation
It is essential to work with a reputable company on any such project with lots of experience in delivering a project like yours.
Having realistic expectations from the outset is essential to stop any unnecessary frustration, the journey can sometimes be challenging but the end result will always be worth it.
However, when a bathroom renovation is something a home owner may only do very few times in their lifetime. How do we know what a realistic expectation, even is?
I aim to help clear this up for you below and outline what to expect during a bathroom installation project.
NB: I can only comment on how our own service works here and my experience of working with some other large bathroom companies.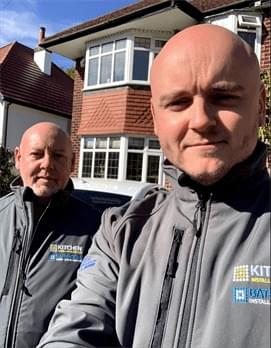 Project Management:
If you are hiring a company that provides you with a project manager, this will not mean somebody is stood over the tradesmen supervising every single movement they make, there will be an element of trust. But if you see something you do not like, just notify the project manager and give them the opportunity to sort anything out.
80% of the project management time (if done right) is done in advance of the job starting (planning) and dealing with queries and the supply chain during the project. The requirement on site should only be 1 visit per week in a well organised structure with competent tradesmen doing the job.
If you want to self manage, I would find the tradesmen and do that. If you want a manager provided then you will pay more but just make sure you select the right company for this and communicate with your manager only, resist getting in the middle of the tradesmen and their superiors.
Start dates:
Start dates given well in advance of a job starting can only ever be an estimate. The biggest mistake here is to take a date for gospel when it is weeks away. Even if the installer gives you a "solid date" - take it with a massive pinch of salt.
In this industry you will be very lucky to set a start date in advance and be able to stick to it exactly.
We give an estimated week we aim to start, then the week before confirm the day. This works fine, but even then the exact day can change - you just never know what is going to happen in the days leading up to starting your project…. and finishing the one before.
End dates:
If the job needs to have a solid end date then I would strongly consider moving the project start date so it cannot possibly cause you major inconvenience if it over runs.
If you are booking time off work to be at home while the workmen are there, I would not advise this. Reputable tradesmen are more than ok working in an empty house. Plus, if you have booked time off work, and the job takes longer than expected, then it was a waste of your holidays as you will be back at work before it's complete.
You also want to avoid putting the team onsite or the manager under pressure where they feel like they need to rush. I put "rushing" down to most quality issues that I ever see. This is another reason why the cheapest is never the best, the cheapest generally rush to make their jobs pay.
We do not work to a solid end date for any project, all we can ever do is estimate, the end result needs to be right and it can't be rushed. It's just about being reasonable as everybody wants the right outcome.
Preparing & protecting your home:
Before the job starts you will need to:
Clear walk ways of furniture and delicate/valuable items including the pictures on the walls
Clear some space for storage preferably in a garage or spare room
Empty the bathroom of all belongings
Remove any items you want to keep
Most importantly, make sure you have tea and coffee & milk
The installer should protect your furniture with sheets if needed and protect the floors along the access walkways with sticky plastic covering, we would avoid using cotton dust sheets on the floors - they do not repel water spillages and they are tripping hazards.
Dust & cleanliness:
Yes, it will get dusty. There is nothing that can be done about that. If you live in an older property then the worse the dust will be, the newer the house the least dust. As a general rule.
No matter what, A good standard of housekeeping should be maintained by the installer but it won't be 100% while works are in progress. Have patience here, it is hard to do a job in someones house and be perfectly clean also. The rooms will be cleaned on completion within reason but a sparkle clean once the installers have left and the dust has settled will be needed from yourself to get it perfect.
NB - On our jobs the waste collection (if no skip used) or skip collection will take place at the end of the job.
The Installation Itself:
This industry generally adopts and 8 AM start and a 4/5PM finish Monday to Friday.
Some installers may want to come in at the weekend, some may not but if you have a preference always make it clear. Set boundaries if you need to from the outset. Moving the goalposts once the job is moving is not going to help.
Your designs should be brought to life but your terms and conditions of sale should always be honoured on both sides. Ensure you understand fully what is being installed and how it will look. The computer designs to actual reality will never be exact so bear this in mind.
All works should be carried out to the relevant British standards and last for many years.
Always raise any issues you have on email and always provide images.
Completing and signing off:
Some companies will come and do a formal written sign off, some will just get verbal or email confirmation from you. Either way, once you pay your invoices you are deemed to be satisfied.
However, this does not devoid the company from putting anything right if you are not happy after the invoices are paid.
Our fitting teams send in images every day of the job progressing so our management knows what is being done and how. Having worked with our installers for many years, we know the standard they produce and they know in return what we expect, so we generally don't do a formal sign off as a hard and fast rule at the end because of this confidence in our teams. This may change as the company grows.
Warranty periods are generally 12 months, but extensions are sometimes offered. We have a standard 3-year warranty that can be upgraded to 5 years at an extra cost.
Blog written by Aaron Dronsfield, Bathroom Installation Services