The final specification:
We produced a design based on the initial outline specification:
• Full rip out and reboard of the whole room
• Full tile – same tile throughout
• Under-floor heating
• Remove bath & install walk in shower
• Exposed shower valve with drench head & hand held head
• New suite inc, toilet, vanity, towel rail, LED mirror cabinet
• LED lighting to ceiling & silent ventilation
Projects of this spec in a standard and amount of building work average around £8000, a smaller bathroom or en-suite would be around £5-7000, a larger room with a great spec allow £9-13000. These are just guides and you will need a quote to know for sure.
Once we know your requirements, we can put your exact tiles and products into a 3D design, see below what we were able to produce for Mrs Sherburn.
Advice - Tiles or Wall Panels? Large format tiles are becoming more and more popular, fewer grout lines. Shower panels are discussed frequently as they appeal for the same reason - less chance of failure. In the end, it comes down to budget and taste, discuss this with an expert for the best outcome.
A properly installed tile installation is more than able to last the long term. The DIY revolution has give the nation a phobia of tiles, this is because now there are so many badly installed bathrooms, people have moved into new homes and inherited cheaply installed or DIY installed bathrooms, so now people have started to think the products are to blame, this is simply not the case. Correct installation methods with quality materials will rarely fail you.
As part of this project, it was essential to be able to wash hair in the sink for Mrs Sherburn's clients, so we installed a mini shower valve that could be thermostatically controlled next to the vanity basin unit, we like to find a solution for everything and everybody has their own requirements, so we are open to doing things out of the norm to get the result needed.
A project like this will take around 2 weeks, we say allow 10-12 working days as a guide.
This is what it looked like when we had signed off the project.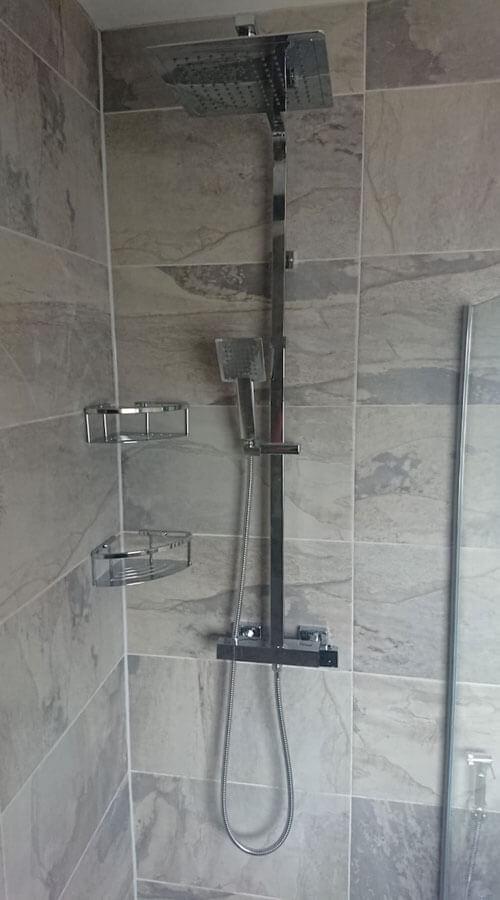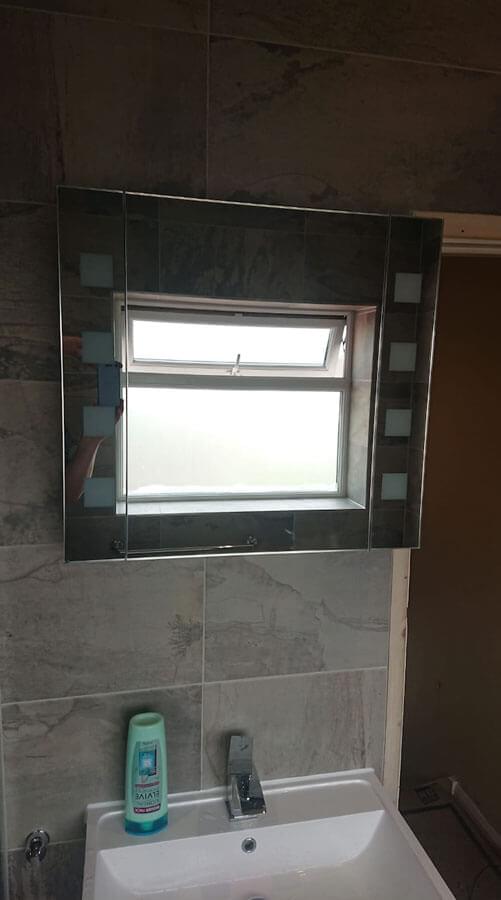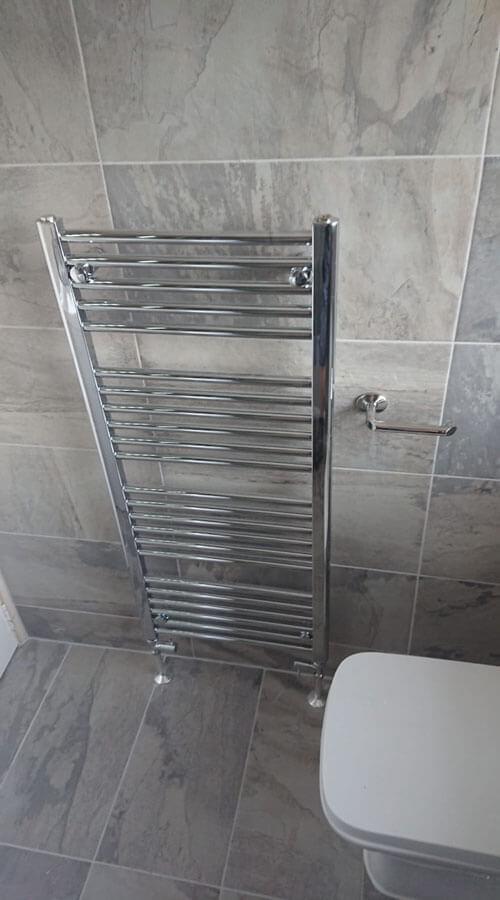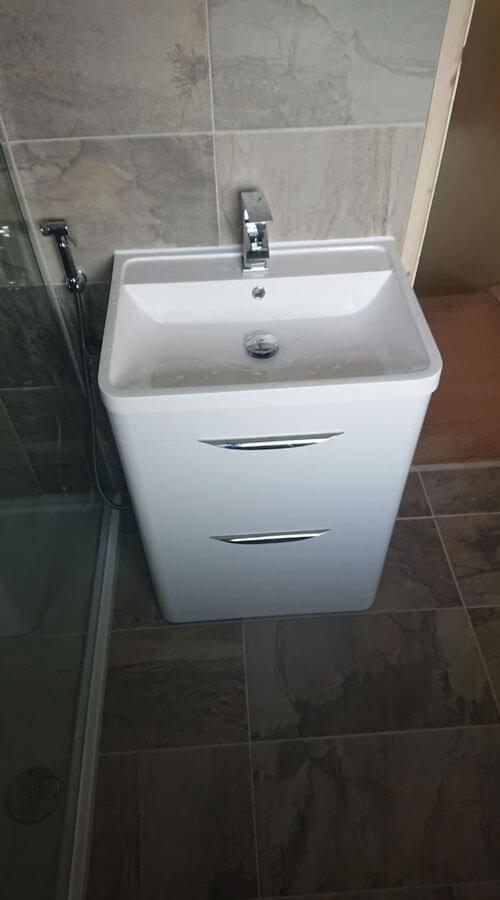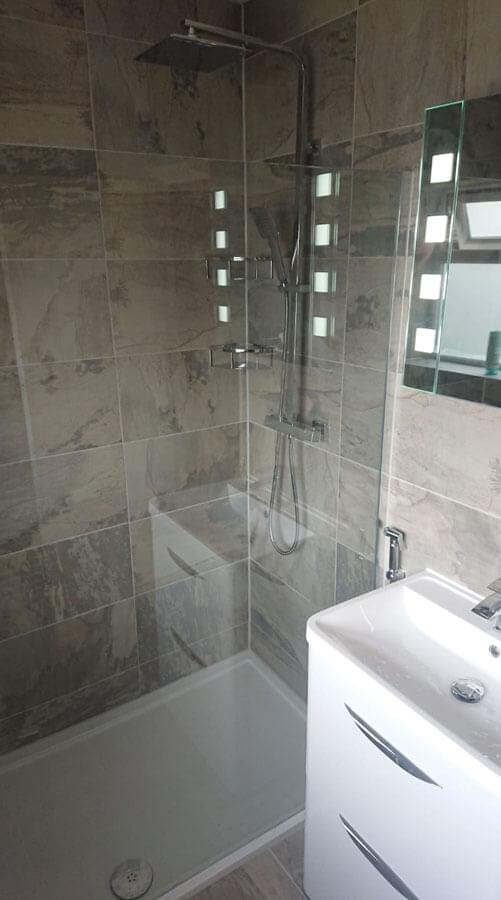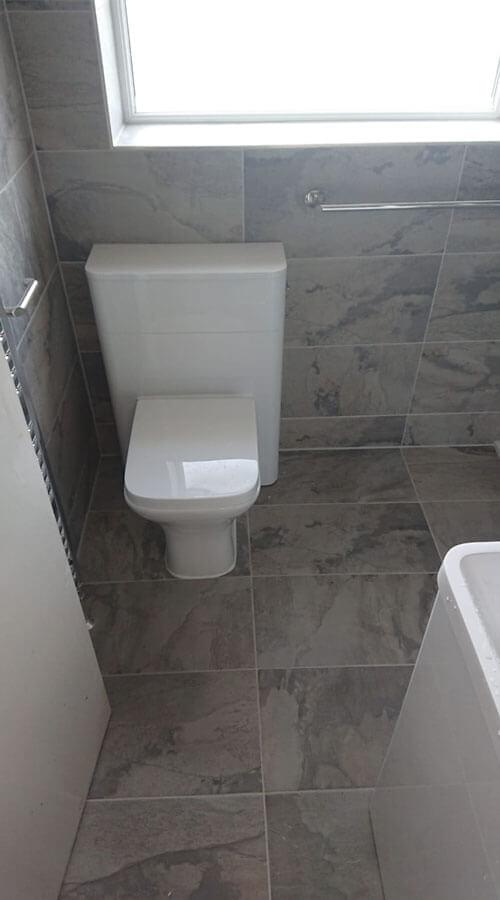 On completion we sent out our warranty certificate and asked Mrs Sherbrn for her thoughts on everything, she took to social media to let the world know about her new bathroom, this is what she said:
"We have a small bathroom and no extra toilet in our house this worried us but every day the fitter put our toilet back in. It took just two weeks to fit and the finish is beautiful and we now have a spa like bathroom. Tiles are beautiful."
The team care deeply about the outcome of our projects and these comments mean so much.
You can find this review on our facebook page.